As promised, a few impressions of my amazing trip to Capri last weekend. But first of all thanks to my lovely girls for all the fun we had and a huge thank you to the hard-working regatta team, which made this great time possible!!!
Coolest "girl boat" ever… promoting true regatta spirit, all dressed up in our cute Kappa polos…
… our boats…
…unfortunatelly, I did not quite manage to keep my ideal regatta dresscode, but I tried to keep it at least a bit fashionable by wearing this vintage marine scarf from Kiliwatch…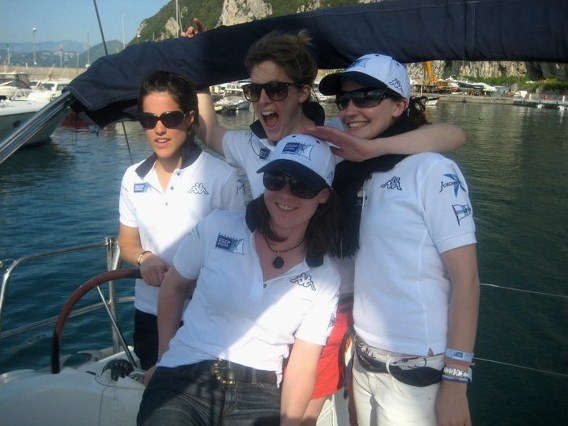 …the girls fooling around…
A few more impressions:
…with my dearest friend Isa, having lunch at one of Capri's in vogue restaurants Edode…
..the legendary rocks infront of Capri …
…the view from our boat on the marina de Napoli…
…and as this is after all a fashion blog, I'm closing with this picture of the Prada store (btw, this tiny island is a real designer stores paradise…). It doesn't come across that well on the photo, but I just loved the juxtaposition of this really fancy store and the huge rocks in the background.
Special thanks to Ann-Kristin, Christian and Andrea, who allowed me to "steal" their pics!!